Sinclair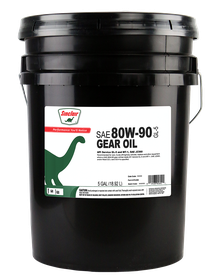 Sinclair 80W-90 GL-5 Gear Oil
Sinclair Conventional Gear Oils Industrial Lubricants and Greases
Sinclair 80W-90 Gear Oil is formulated specifically for multipurpose, extreme pressure applications, such as conventional differentials, gear boxes, limited slip rear axles, manual transmissions and hypoid gears. Formulated with only the highest quality lubricant oils and our most advanced additive systems that include anti-wear, anti-friction, and extreme pressure agents, along with corrosion and oxidation inhibitors.
Other benefits include:
Excellent wear protection, especially under operating conditions of extreme pressure and high torque.
High thermal breakdown resistance.
Prevention of, rust, foaming, and corrosion.
Smoother and quieter operation.
Robust Anti-Friction, Anti-Wear Chemistry
Sinclair friction and wear control is unsurpassed, with advanced molecules that bond to form a barrier-building shield that reduces friction and wear.
Stands Up to Even the Most Extreme Conditions

Get outstanding protection even in the most severe hot and cold climates, pressure, micro pitting, or oxidation.
Performance You'll Notice
OEMs are continuing to change driveline designs, and conditions of operations are growing more severe. So you need gear lubricants with outstanding load-carrying capability wherever extreme pressures and shock loading might occur. The technologically advanced driveline gear oils from Sinclair are formulated to meet the challenge of balancing protection, toughness and endurance.
Performance
Against load, shear and shock.
Strength
Excellent protection against wear and corrosion.
Durability
Long-lasting thermal stability means longer life for gear, bearings and seals.
Industry/OEM Specifications
| | |
| --- | --- |
| API GL-5 | Meets Requirements |
| Mack GO-J, GO-H, GO-G | Meets Requirements |
| MT-1 | Meets Requirements |
| SAE J2360, MIL-2105E/F | Meets Requirements |
| Limited Slip Top Off/Service Fill | Suitable for Use |
Typical Properties
| | | |
| --- | --- | --- |
| Brookfield Viscosity at -26°C, cP | ASTM D2983 | 92,000 |
| Color | ASTM D1500 | 7 |
| Flash Point °C | ASTM D92 | 224 |
| Flash Point °F | ASTM D92 | 435 |
| Gravity, °API | ASTM D287 | 27.76 |
| Pour Point °C (°F) | ASTM D5950 | -33°C (-27°F) |
| Specific Gravity @ 60°F (15.6°C) | ASTM D4052 | 0.8885 |
| Viscosity @ 100°C cSt | ASTM D445 | 13.98 |
| Viscosity @ 40°C cSt | ASTM D445 | 130.9 |
| Viscosity Index | ASTM D2270 | 104 |
Container/Bulk Availability
| | |
| --- | --- |
| 55 Gallon Drum | Product Number - 570-003 |
| 5 Gallon | Product Number - 570-008 |
Available in Bulk
Information accurate as of December 12, 2023