Sinclair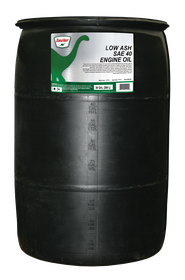 Sinclair Natural Gas Low Ash SAE 40 Engine Oil
Sinclair Natural Gas Engine Oil Heavy Duty Engine Oil
Get the friction management and unbeatable protection you need with Sinclair Natural Gas Low Ash SAE 40 Engine Oil.
Designed exclusively for use in medium-to high-RPM engines that are fueled by pipeline natural gas, processed natural gas, or other gases that may contain corrosive materials, Sinclair Natural Gas Low Ash SAE 40 Engine Oil delivers benefits like:
Oxidation resistance, with thermally stable base oils with high VI formulations.
Outstanding oil oxidation life.
Powerful protection against engine component wear.
Exceptional degree of deposit control for low-ash oils with efficient neutralization of combustion's corrosive byproducts.
Exhaust valve seat and face wear is reduced during severe operation via significant valve cushioning additive components.
Meeting Non-Selective Catalytic Reduction (NSCR) catalyst compatibility requirements.
Better Anti-Friction and Anti-Wear Composition
The chemical makeup of Sinclair Natural Gas Low Ash SAE 40 Engine Oil gives you control of wear and friction, with molecules that actually bond to form a protective shield.
Performance You'll Notice
Equipment designs are evolving, and operation conditions continues to grow more and more severe. And you need a brand that's evolved as well: Sinclair. With over a century's worth of experience, we continue to develop and evolve advanced oils that meet today's demanding operating environment.
Sinclair Natural Gas Engine Oil is specially engineered and formulated to provide:
Neutralize corrosion with low-ash oils.

Tremendous deposit control.
Unsurpassed wear protection.
Formulated for long life and lasting thermal stability.

Applications
Designed, formulated and blended for use in heavy-duty four-stroke engines operating on pipeline quality natural gas under high load conditions year-round. Also recommended for high-speed four-stroke gas engines used in cogeneration applications and for engines fueled by synthetic gas. Can be used with fuels containing low levels of sulfur and Chloro-Fluoro Carbons (CFCs). Typical applications where low-ash natural gas engine oils include:
Natural gas compression and transmission.
Wellhead gas pumpers.
Oil pumpers.
Irrigation systems.
Total energy systems.
Waste water treatment cogeneration plants.
Landfill gas cogeneration systems.
Manure gas cogeneration.
Typical Properties
| | | |
| --- | --- | --- |
| Color | ASTM D1500 | 2 |
| Flash Point °C | ASTM D92 | 220 |
| Flash Point °F | ASTM D92 | 428 |
| Gravity, °API | ASTM D287 | 29.85 |
| Phosphorus, wt. % | ASTM D5185 | 0.025 |
| Pour Point °C (°F) | ASTM D5950 | -27°C (-17°F) |
| Specific Gravity @ 60°F (15.6°C) | ASTM D4052 | 0.877 |
| Sulfated Ash, wt. % | ASTM D874 | 0.46 |
| TBN, mgKOH/g | ASTM D2896 | 5.7 |
| Viscosity @ 100°C cSt | ASTM D445 | 13.58 |
| Viscosity @ 40°C cSt | ASTM D445 | 134.65 |
| Viscosity Index | ASTM D2270 | 96 |
| Zinc, wt. % | ASTM D5185 | 0.027 |
Container/Bulk Availability
| | |
| --- | --- |
| 55 Gallon Drum | Product Number - 569-003 |
Available in Bulk
Information accurate as of December 12, 2023