Sinclair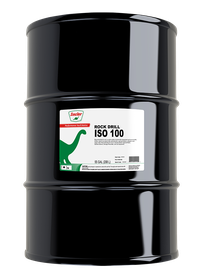 Sinclair Rock Drill Oil ISO 100
Sinclair Construction Lubricants Industrial Lubricants and Greases
Sinclair Rock Drill Oil delivers excellent friction management and outstanding protection and performance.
Sinclair Rock Drill Oil is engineered with high quality Group II, severely hydrocracked, high-viscosity index, paraffinic base stocks. Our Rock Drill Oil is designed for internal lubrication of all makes and models of pneumatic percussion air-powered tools and will perform in even the most severe conditions. With a rust-inhibiting and extreme pressure (EP) additive formulation, it provides outstanding emulsification and tackiness (as an aid to lubrication whenever there is condensation in the air motor). Air drills, jackhammers, stoppers, wagon drills, high- and low-speed drills, and paving breakers are among the recommended usages.
Formulated For Dynamic Anti-Wear and Anti-Friction
Sinclair Rock Drill oils provide exceptional control of wear and friction via a chemical formulation that causes molecules to bond, forming a barrier-building shield.
Extreme Protection in Extreme Conditions
Even in the most arduous hot or cold climates, Sinclair Rock Drill Oil ISO 100 gives outstanding protection.
Performance You'll Notice
OEM designs are constantly changing, and operating conditions continue to worsen. Through it all, Sinclair has adapted and advanced, continuing to offer advanced lubricants and technology to meet today's demands and provide a winning balance of performance, toughness, and endurance.
Industry/OEM Specifications
| | |
| --- | --- |
| AGMA 9005 D-94, 250.04, 251.02 | Suitable for Use |
| API GL-2 | Suitable for Use |
| Cincinnati Machine/Milacron | Suitable for Use |
| Dresser-Rand, Ingersoll-Rand, Gardner-Denver, Chicago-Pneumatic, and Joy equipment | Suitable for Use |
| U.S. Steel 224 | Suitable for Use |
Typical Properties
| | | |
| --- | --- | --- |
| Color | ASTM D1500 | 6 |
| Flash Point °C | ASTM D92 | 225 |
| Flash Point °F | ASTM D92 | 437 |
| Gravity, °API | ASTM D287 | 29.50 |
| Phosphorus, wt. % | ASTM D5185 | 0.013 |
| Specific Gravity @ 60°F (15.6°C) | ASTM D4052 | 0.8789 |
| Sulfur, wt. % | ASTM D4951 | 0.336 |
| Viscosity @ 100°C cSt | ASTM D445 | 12.23 |
| Viscosity @ 40°C cSt | ASTM D445 | 102.5 |
| Viscosity Index | ASTM D2270 | 111 |
Container/Bulk Availability
| | |
| --- | --- |
| 55 Gallon Drum | Product Number - 864-003 |
| | Product Number - |
Available in Bulk
Information accurate as of December 12, 2023