Sinclair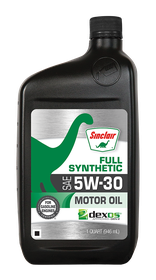 Sinclair Full Synthetic 5W-30 Motor Oil
Sinclair Full Synthetic Motor Oil Passenger Car Motor Oil
Sinclair Full Synthetic 5W-30 Motor Oil is a pure and technologically advanced formulation that provides unsurpassed protection and performance and provides the following benefits:
Sinclair dexos1™ Approved Motor Oils meet or exceed GM dexos1™ specifications for warranty requirements for all GM automotive gasoline engines currently in use worldwide, and are fully licensed by GM.
Increased fuel mileage, maximum horsepower and better acceleration.
A strong, consistent molecular structure that forms a film layer that controls friction, resists wear and prevents contact between metal surfaces.
Outstanding performance in extreme hot or cold conditions, stop-and-go traffic, recurring short trips, heavy loads and dusty conditions.
Performance that meets or exceeds API, SP and ILSAC GF-6 requirements
Developed for the Engine Designs of Today
OEMs have changed their engine designs to be lighter, yet still demand increased horsepower. And that means higher demands on motor oils. Sinclair Full Synthetic delivers, with technology and formulations that have kept pace with those ever-changing engine demands.
Sinclair Full Synthetic Motor Oil: Performance You'll Notice
In addition to the peace of mind that comes with Sinclair's 100+ years of lubricant technology, Sinclair Full Synthetic 5W-30 Motor Oil delivers the following:
Performance
Controls friction and wear over 80% better than current API requirements.1
Increased fuel economy and reduced fuel costs without losing engine protection and performance. You'll also notice increased acceleration.
Longer periods between oil changes.
Formulated to handle the most severe conditions.
100% pure synthetic, with molecules that provide superior, long-lasting engine protection and performance.
Strength
A strong oil film serves to resist metal-to-metal contact, even under stress.
Outstanding wear protection.
Augmented friction reduction - Sinclair oils are heat-reactive, and produce a vital barrier that reduces friction and protects metal surfaces.2
Durability
Weathers heat and shearing to extend oil life.
Engineered to handle the most severe or extreme conditions.

1 Based on Sequence IV Wear test.
2 To measure friction reduction benefits, engineers used the ball-on-disk traction test.
Applications
All gasoline- and flex-fuel cars, light trucks and SUVs, including gasoline-electric hybrids, notably under severe conditions.
Designed to protect turbochargers and emission control system catalysts.
Ideal for vehicles operating on fuels up to E85 ethanol.
Industry/OEM Specifications
| | |
| --- | --- |
| API SP | Approved |
| dexos1® Gen2 | Approved |
| ILSAC GF-6A | Approved |
| API SJ, SH, SG, SF | Meets Requirements |
| API SL | Meets Requirements |
| API SM | Meets Requirements |
| API SN | Meets Requirements |
| API SN Plus | Meets Requirements |
| Chrysler MS-6395 | Meets Requirements |
| Ford WSS M2C946-B1, M2C946-A, M2C929-A | Meets Requirements |
| GM 4718M | Meets Requirements |
| GM 6094M | Meets Requirements |
| ILSAC GF-4 | Meets Requirements |
| ILSAC GF-5 | Meets Requirements |
Typical Properties
| | | |
| --- | --- | --- |
| Boron, wt. % | ASTM D5185 | 0.023 |
| Calcium, wt. % | ASTM D5185 | 0.135 |
| Cold Cranking Simulator at (°C), cP | ASTM D5293 | 4400 (-30) |
| Color | ASTM D1500 | 3 |
| Flash Point °C | ASTM D92 | 227 |
| Flash Point °F | ASTM D92 | 441 |
| Foam Seq. III (Tendency/Stability), mL | ASTM D892 (Opt. A) | 0/0 |
| Foam Seq. II (Tendency/Stability), mL | ASTM D892 (Opt. A) | 10/0 |
| Foam Seq. I (Tendency/Stability), mL | ASTM D892 (Opt. A) | 0/0 |
| Gravity, °API | ASTM D287 | 35.82 |
| High Temperature Foaming, static foam | ASTM D6082 (Opt A) | 15/0 |
| High Temperature / High Shear Vis at 150°C, cP | ASTM D5481 | 3.2 |
| Magnesium, wt. % | ASTM D5185 | 0.059 |
| Molybdenum, wt. % | ASTM D5185 | 0.0079 |
| Nitrogen, wt. % | ASTM D4629 | 0.104 |
| Noack Volatility, % loss | ASTM D6375 | 12 |
| Phosphorus, wt. % | ASTM D5185 | 0.076 |
| Pour Point °C (°F) | ASTM D5950 | -45°C (-49°F) |
| Pumping Viscosity at (°C), cP | ASTM D4684 | 15,000 (-35) |
| Shear Stability, Final Viscosity in cSt | ASTM D6278 | 9.4 |
| Specific Gravity @ 60°F (15.6°C) | ASTM D4052 | 0.8457 |
| Sulfated Ash, wt. % | ASTM D874 | 0.9 |
| Sulfur, wt. % | ASTM D4951 | 0.3 |
| TBN, mgKOH/g | ASTM D2896 | 7.9 |
| Viscosity @ 100°C cSt | ASTM D445 | 10.91 |
| Viscosity @ 40°C cSt | ASTM D445 | 62.09 |
| Viscosity Index | ASTM D2270 | 169 |
| Zinc, wt. % | ASTM D5185 | 0.085 |
Container/Bulk Availability
| | |
| --- | --- |
| 55 Gallon Drum | Product Number - 502-003 |
| 6/1 Quart | Product Number - 502-006 |
Available in Bulk
Information accurate as of December 12, 2023