Sinclair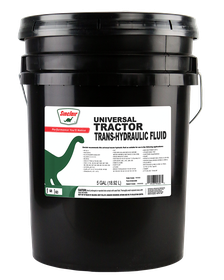 Sinclair Universal Tractor Trans-Hydraulic Fluid
Sinclair Agriculture & Construction Equipment Industrial Lubricants and Greases
Sinclair Universal Tractor Trans-Hydraulic Fluid is produced using only high-quality paraffinic base stocks. It is recommended for farm equipment with transmission final drives, clutches, wet brakes, and hydraulics supplied from a common reservoir. With Sinclair, you can expect benefits like:


Terrific oxidative and thermal stability.
Outstanding component wear protection that extends equipment life.
Exemplary pumpability, even at extreme low temperatures.
Protection against rust and corrosion resulting from water contamination.
Ideally balanced frictional characteristics that ensure precise operations of both brake and clutch, as well as reduced chatter.
Formulated for the Driveline Designs of Today
There have been dramatic changes in drivelines, and there is a need for specialized fluids that meet the needs of unique applications. Sinclair driveline fluid is an advanced formulation, engineered to achieve the ideal balance of protection, toughness, and endurance.
Get precise brake and clutch operation, excellent cold-weather pumpability, and chatter reduction along with outstanding frictional characteristics.

Prevents wear while increasing equipment life via a strong, protective oil film barrier that helps avoid contact between metal-to-metal rotating parts.

Excellent oxidation and thermal stability and protection against corrosions and rust resulting from water contamination.

Industry/OEM Specifications
| | |
| --- | --- |
| ABEX/Denison HF-0, HF-1, HF-2 | Suitable for Use |
| AGCO 821XL | Suitable for Use |
| Allison C-4 | Suitable for Use |
| Allison C-4, C-2 | Suitable for Use |
| API GL-4 | Suitable for Use |
| auer/Danfoss (Sundstrand) Hydrostatic Transmission Fluid | Suitable for Use |
| Case JIC 144, 145 | Suitable for Use |
| Case MS-1209, 1210, 1207, 1204 | Suitable for Use |
| CAT TO-2 | Suitable for Use |
| Clark Lift Truck Transmission Fluid TA 12, TA 18, HR 500, HR 600 | Suitable for Use |
| Deutz, Allis-Chalmers Power Fluid 821 | Suitable for Use |
| Ford/NewHolland ESN-M2C143A-D (NH-410B), ESN-M2C86A, B, C, ESNM2C-41, 41A & B, 43, ESN-M2C-48B & C, ESN-M2C53A & B, ESN-M2C-77A, 78A, 79A, ESN-M2C-142A, ESN-M2C-143, ESN-M2C-92A, ESN-M2C-159A-C, M4864A & B | Suitable for Use |
| Hesston-Fiat AF-87, Oilofiat Tutela Multi-F | Suitable for Use |
| International Harvester Hy-Tran B-6 | Suitable for Use |
| John Deere J20C, J20A, J14A-C, 303 | Suitable for Use |
| Komatsu AXO80 and prior, Dresser, Landini | Suitable for Use |
| Kubota UDT | Suitable for Use |
| Massey Ferguson M-1103A, M-1103B, M-1110, M-1127, M-1127A, M-1127B, M-1129, M-1129A, M-1135, M-1138, M-1141, M-1143, M-1145 | Suitable for Use |
| MAT 3540, 3525, 3526, 3510, 3506, 3505 | Suitable for Use |
| Oliver/White Q-1826, Q1766, Q1722, Q1766B, Q1705, Q1802, Type 55 | Suitable for Use |
| Sauer/Danfoss (Sundstrand) Hydrostatic Transmission Fluid | Suitable for Use |
| Steiger Hyd-Trans SEMS 17001 | Suitable for Use |
| Valmet, Yanmar, New Idea Power Units, Leyland, Belarus & Fiat | Suitable for Use |
| Versatile ESN-M2C134D (FNHA-2-C-201.00) | Suitable for Use |
| Vickers/Eaton M-2950-S, I-286-S | Suitable for Use |
| Volvo WB101, Volvo VCE 1273.03 | Suitable for Use |
| ZF TE-ML-03E Torque Converter Transmission | Suitable for Use |
| ZF TE-ML-05F Off-Road Axles, exception of hypoid gears | Suitable for Use |
Typical Properties
| | | |
| --- | --- | --- |
| Brookfield Viscosity at -35°C, cP | ASTM D2983 | 35,000 |
| Calcium, wt. % | ASTM D5185 | 0.334 |
| Color | ASTM D1500 | 2.5 |
| Flash Point °C | ASTM D92 | 224 |
| Flash Point °F | ASTM D92 | 435 |
| Gravity, °API | ASTM D287 | 30.20 |
| Phosphorus, wt. % | ASTM D5185 | 0.13 |
| Pour Point °C (°F) | ASTM D5950 | -39°C (-38°F) |
| Specific Gravity @ 60°F (15.6°C) | ASTM D4052 | 0.8751 |
| Viscosity @ 100°C cSt | ASTM D445 | 9.781 |
| Viscosity @ 40°C cSt | ASTM D445 | 70.43 |
| Viscosity Index | ASTM D2270 | 122 |
| Zinc, wt. % | ASTM D5185 | 0.139 |
Container/Bulk Availability
| | |
| --- | --- |
| 30 Gallon Drum | Product Number - 534-004 |
| 330 Gallon Tote | Product Number - 534-002 |
| 55 Gallon Drum | Product Number - 534-003 |
| 5 Gallon | Product Number - 534-008 |
| 2/2.5 Gallon | Product Number - 534-009 |
Available in Bulk
Information accurate as of December 12, 2023