Sinclair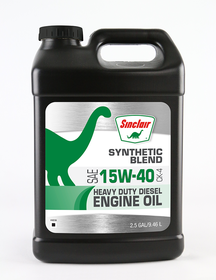 Sinclair Synthetic Blend 15W-40 CK-4 Heavy Duty Diesel Engine Oil
Sinclair Synthetic Blend Heavy Duty Diesel Engine Oil Heavy Duty Engine Oil
OEMs have advanced engines design to improve fuel economy, reduce emissions and extend oil drain intervals. And Sinclair has innovated and improved engine oil technology to stay in front of these changes.
Sinclair Synthetic Blend Heavy Duty 15W-40 CK-4 Diesel Engine Oil gives you unsurpassed protection and better performance, especially in very cold or hot temperatures.
Improved fuel economy.
Outstanding extended drain capability.
An advanced lubricant that meets or exceeds OEM requirements.

Performance You'll Notice
Sinclair Synthetic Blend 15W-40 CK-4 delivers, with outstanding protection and performance. It controls friction and reduces metal-to-metal contact in today's engine designs as well as older engine models.
Three Keys to Better Performance.
Sinclair Synthetic Blend 15W-40 CK-4 gives you:
Extended drain intervals that help achieve fuel economies when following OEM recommendations and oil analysis.

Increases wear protection up to 53%.1
Unbeatable protection against bearing and engine wear caused by cavitation through increased oil aeration.

Deposit control up to 63%2 and better oxidation control up to 83%.2
Higher starting TBN (10) gives increased oxidation control and protects against the acid buildup that causes rust and corrosion.

1 To measure friction reduction benefits, engineers used the ball-on-disk traction test.
2 Compared to new limits of API CK-4 requirements.
Applications
Product and grade is diesel engine oil recommended for naturally aspirated and turbocharged four-stroke diesel engines in which the API CK-4 service categories are recommended. It is formulated for engines operating under severe service and a wide range of cold and hot temperatures.
It is backward compatible for CJ-4 and older API service categories.
Approved by or meets requirements of major OEMs such as Cummins, Detroit Diesel, Mack/Volvo, Paccar, Navistar, Caterpillar, and others.
Industry/OEM Specifications
| | |
| --- | --- |
| API CK-4 | Approved |
| API SN | Approved |
| Ford WSS-M2C171-F1 | Approved |
| ACEA E9, E7, E4, E2 | Meets Requirements |
| API CI-4 Plus, CI-4, CH-4, CG-4, CF-2, CF | Meets Requirements |
| API CJ-4 | Meets Requirements |
| API SJ, SH, SG, SF | Meets Requirements |
| API SL | Meets Requirements |
| API SM | Meets Requirements |
| CAT ECF-3, ECF-2, ECF-1-a | Meets Requirements |
| Chrysler/Fiat MS-10902 | Meets Requirements |
| CID A-A-52306, MIL-PRF-2104G | Meets Requirements |
| Cummins 20086 | Meets Requirements |
| Cummins CES 20081, 20077, 20076 | Meets Requirements |
| Detroit Diesel 93K218, 93K215, 93K214 | Meets Requirements |
| Detroit Diesel 93K222 | Meets Requirements |
| Ford WSS-M2C171-E | Meets Requirements |
| Global DHD-1 | Meets Requirements |
| JASO DH-2 | Meets Requirements |
| Mack EO-O Premium Plus, EO-N Premium Plus 03, EO-M Plus, and prior | Meets Requirements |
| Mack EOS-4.5 | Meets Requirements |
| MAN 3275, 270 | Meets Requirements |
| MAN 3575 | Meets Requirements |
| MB 228.3, 228.31 | Meets Requirements |
| MTU 2.1 | Meets Requirements |
| MTU Type I, Type II | Meets Requirements |
| Renault RLD-4 | Meets Requirements |
| Volvo VDS-4, 3, 2 | Meets Requirements |
| Volvo VDS-4.5 | Meets Requirements |
| Allison C-4 | Suitable for Use |
Typical Properties
| | | |
| --- | --- | --- |
| Calcium, wt. % | ASTM D5185 | 0.105 |
| Cold Cranking Simulator at (°C), cP | ASTM D5293 | 5398 (-20) |
| Color | ASTM D1500 | 3 |
| Flash Point °C | ASTM D92 | 224 |
| Flash Point °F | ASTM D92 | 435 |
| Gravity, °API | ASTM D287 | 30.55 |
| High Temperature / High Shear Vis at 150°C, cP | ASTM D5481 | 4.3 |
| Magnesium, wt. % | ASTM D5185 | 0.1 |
| Molybdenum, wt. % | ASTM D5185 | 0.0066 |
| Nitrogen, wt. % | ASTM D4629 | 0.105 |
| Noack Volatility, % loss | ASTM D6375 | 10 |
| Phosphorus, wt. % | ASTM D5185 | 0.115 |
| Pour Point °C (°F) | ASTM D5950 | -36°C (-33°F) |
| Pumping Viscosity at (°C), cP | ASTM D4684 | 21,600 (-25) |
| Specific Gravity @ 60°F (15.6°C) | ASTM D4052 | 0.8732 |
| Sulfated Ash, wt. % | ASTM D874 | 0.99 |
| Sulfur, wt. % | ASTM D4951 | 0.32 |
| TBN, mgKOH/g | ASTM D2896 | 10.0 |
| Viscosity @ 100°C cSt | ASTM D445 | 15.66 |
| Viscosity @ 40°C cSt | ASTM D445 | 116.1 |
| Viscosity Index | ASTM D2270 | 143 |
| Zinc, wt. % | ASTM D5185 | 0.127 |
Container/Bulk Availability
| | |
| --- | --- |
| 5 Gallon | Product Number - 727-008 |
| 2/2.5 Gallon | Product Number - 727-009 |
| 4/1 Gallon | Product Number - 727-007 |
| 30 Gallon Drum | Product Number - 538-004 |
| 330 Gallon Tote | Product Number - 727-002 |
| 55 Gallon Drum | Product Number - 727-003 |
| 6/1 Quart | Product Number - 727-014 |
Available in Bulk
Information accurate as of December 12, 2023