Lube Advisor
Why Choose Sinclair Lubricants?
Sinclair lubricants have been designed and formulated to keep pace with the changing demands of today's engine designs and technologies. With increased power density, higher engine temperatures, increased fuel economy, and lower emission comes an increased need for the reliable balance of protection, toughness, and durability you'll find with Sinclair lubricants.
Why we talk about 'Performance You'll Notice'

As OEM's change engine designs, increase fuel mileage, and reduce emissions, new challenges emerge for lubricants.
Sinclair has kept pace with those changes and has developed powerful new formulations, including technology that manage friction through a thin oil film that helps prevent wear and tear due to metal-to-metal contact between rotating parts and reduces deposits and oxidation.
While you may have to be a scientist to understand exactly how it all works, seeing – and feeling – Sinclair performance for yourself is as easy as using any of our quality oils and lubricants.
Unsurpassed Protection: A Four-Pronged Approach.
Sinclair engine oils and lubricants are designed to perform not only at the high level demanded by today's auto, heavy-duty truck and industrial equipment manufacturers, they provide an ideal balance in four key areas:
Sinclair delivers outstanding protection, and controls friction and wear that go beyond standard industry requirements. Sinclair also works to extend engine life and improve performance in all types of vehicles, trucks, equipment, and machinery.
Sinclair lubricants are formulated to provide a tough, thin film of oil that guards engines, parts, and machinery at points of contact and prevents metal-to-metal friction between rotating parts.
Whether it's the day after an oil change, or the day before one, Sinclair protects just as well. No matter the severity of the operating conditions, Sinclair holds up to heat, oxidation and shearing.
Our formulations are engineered to reduce engine and equipment stress caused by high heat, cold starts, power density, heavy loads, dusty roads, and more.
A Reputation Earned Over Time
There is perhaps no more iconic image in all of American petroleum than the green Sinclair Dinosaur. Since 1930, Dino (DYE-no) has been a familiar figure, signifying the quality of Sinclair lubricants. He's even gone Hollywood a time or two in the popular Pixar movies, Toy Story and Cars.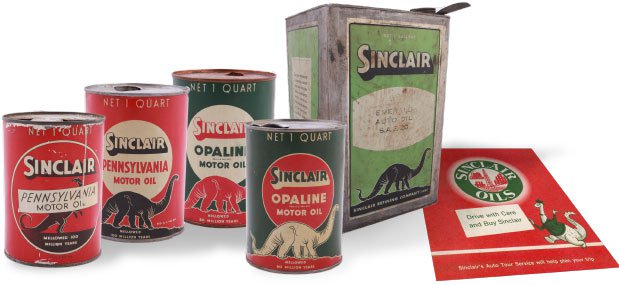 When it comes to lubrication technology, however, Sinclair is no dinosaur. They've stayed on the cutting edge, readily adapting to changes in engine design, improved fuel economy, power density demands, and others. Sinclair wrote the book on lubrication – literally, with the publication of The Law of Lubrication in the 1920's. Since that time, they've continuously updated and improved their family of products while still holding true to the belief that, 'for every machine, of every degree of wear, there's a scientific Sinclair oil to suit its speed and seal its power.'
Today, as always, Sinclair remains an American-owned and operated company, built on integrity and loyalty, and dedicated to treating our customers and co-workers the way we would like to be treated – like family.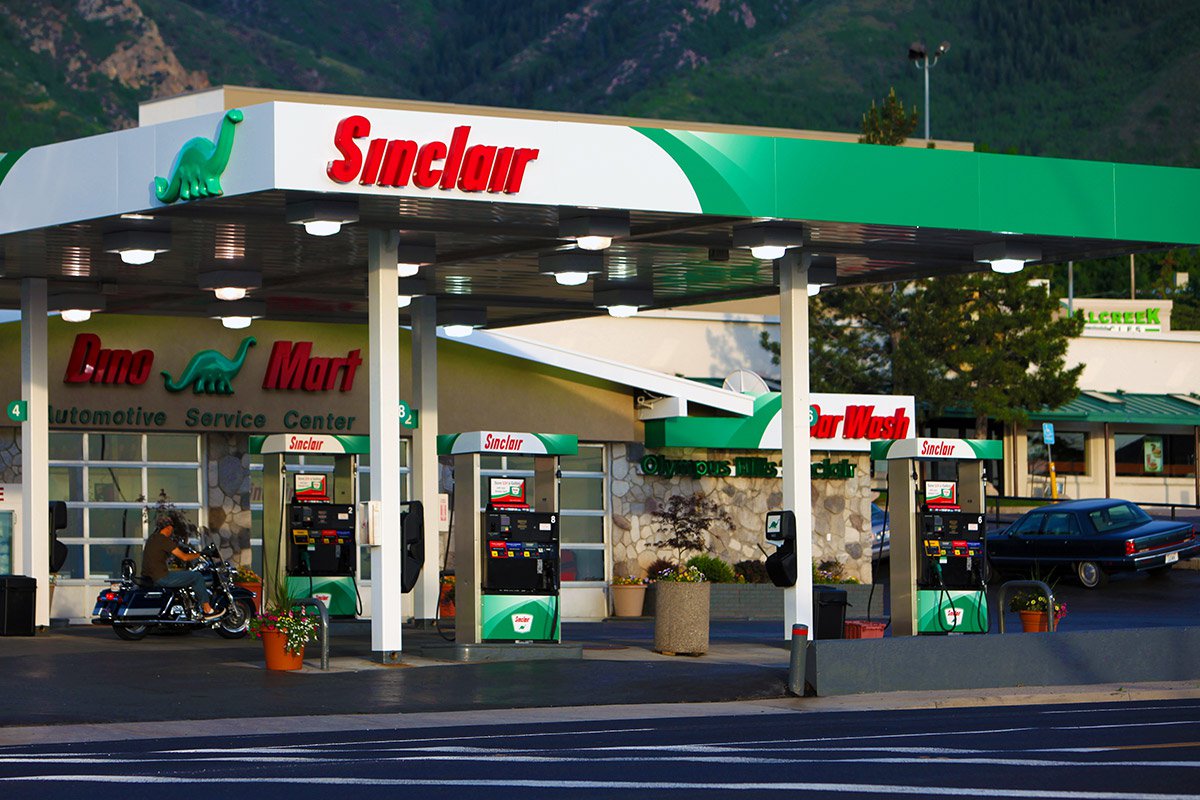 Innovation and Technology at Work in Sinclair Lubricants
Technology changes everything. That's especially true when it comes to Sinclair oils and lubricants. Actually, it's technology and chemistry that uses heat to change everything. Because when engines trigger high heats, our lubricants also trigger a chemical reaction that actually changes the molecular structure of Sinclair oil.
Our lubricants are formulated to create a friction-fighting film. This film creates multiple contact points in engine surfaces where it helps prevent the friction caused by metal-to-metal contact between rotating parts.
The result? Performance you'll notice.